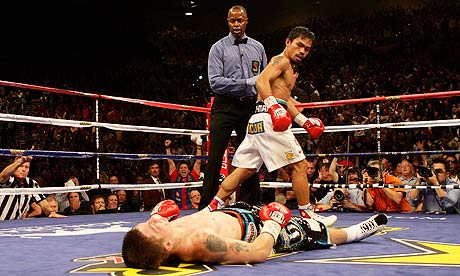 Manny Pacquiao and Ricky Hatton, two of the most acclaimed boxers in the sport, faced off last night in Las Vegas. Many people speculated that brute strength would rule the day. Others posited the fight would come down to speed and elusiveness. Well it turned out they were both right.
Only it was Pacquiao in possession of both, as he steam-rolled the "naturally bigger man", scoring two knockdowns in round 01 (one a perfectly timed counter right cross, apparently the very punch they worked on in the gym; the other an imposing straight left which connected with Ricky's glove and subsequently into his face). I worried we might see a repeat of the Juan Manuel Marquez rematch, where Pacquiao knocked Marquez down three times in round 01, only to win a controversial decision.
But then I remembered that this is Ricky Hatton, the Manchester brawler who doesn't back down, who doesn't run away… who doesn't adapt or adjust, try as he may. It only took one more round to be reassured that Hatton, good as he is, was not as good as Marquez last night.
The winning blow came in the waning seconds of round 2; a vicious Bruce Lee inspired left hook to the chin, torquing Ricky's face and sending the Hitman flailing unconscious into the deep blue canvas (aka next Tuesday). Fortunately Hatton is okay; the way he went down it could have gone either way.
People can talk all they like about the "walk around weight" Hatton puts on between fights. That doesn't really tell the whole story, however, as was demonstrated in this match-up. It has more to do with what strength and weight and speed and skill you bring with you into the ring, not out. Both of these fighters have huge fan-bases, immense country pride, and original, highly likable personas (case-in-point: watch the HBO 24/7 series).
But more importantly than all of that, both fighters are well-known knockout punchers. It just so happens that Pacquiao is about five times faster than Hatton, and Hatton is pretty fast. I'm not sure who you would consider to be the stronger fighter based on last night's performance, but I'll reserve my opinion for now.
I wonder, however, will the pundits reflect upon this victory and say Hatton just had an "off night" or perhaps it was simply a "bad game plan" or maybe Manny "landed a lucky shot"? Will they marginalize Pacquiao's dominance once again? I surely hope not; that would be half-witted and foolhardy.
However, the critics were quick to throw caveats in the air following his win against De La Hoya, the same critics who deemed Manny the statistical underdog. Manny then went on to utterly dismantle the Golden Boy over the course of ten painful-to-watch rounds. Apparently Pacquiao actually didn't prove he was a great fighter in their eyes though; Oscar was simply out of shape, dehydrated, past his prime. Funny, though, how much better De La Hoya looked against Mayweather just one year before, when none other than Freddy Roach was training him (Roach, who has been Pacquiao's trainer and surrogate father for eight years and running; Roach, whom De La Hoya promptly fired after his loss).
But I digress. No matter how you look at it, whether you claim Hatton couldn't pick himself up and evolve following his heartbreaking loss to Mayweather, or whether you believe Pacquiao is the undeniable pound-for-pound boxer in the world. Only one real question remains:
Will Pacquiao fight Floyd Mayweather Jr., and get to be the only fighter in the sport to deliver the Pretty Boy a loss?
Or will Juan Manuel Marquez beat him to the punch come this July? I believe it will be one or the other who does the honors, and hopefully the Pride of the Philippines gets the shot. As the boxer who single-handedly (the left hand, specifically) dethroned and dismantled the nearly empirical reign of Mexican warriors far and wide (Erik Morales, Marco Antonio Barrera, Juan Manuel Marquez, Oscar De La Hoya), Pacquiao has certainly earned it.